The Value Proposition: How to Create One From Scratch
The importance of a good value proposition
All of your marketing efforts will centre around your value proposition. It is what your business has to offer, what problem it solves, the value it promises. It is the focused, distilled essence of your product or service.
Creating a good one could mean the difference between easy sales and your potential customers flocking to your competition.
According to Glyn Welsby of https://ceoanalytix.com/:
A strong value proposition is key for every successful business. It should be the core around which the business is built and should be understood by all your staff whether they are customer-facing or not.
In this post, we'll teach you how to come up with a strong one for your business using tried and true methods.
Value proposition elements
We first need to discuss what elements go into a value proposition. Those are the following:
Headline: Describes the benefit the customer will receive from your business. It's important that the headline be creative, catchy, and concise.
Subheading/paragraph: Explains in detail what your business offers, to whom, and why. Here you can also elaborate on your timeline.
Visual element: Contains a video, infographic, or image that enhances your message.
Now that you know these basic elements we can move on to actually creating your proposition.
Value proposition canvas
The value proposition canvas helps shape your value proposition by narrowing down your focus to a few specific key points. Its main goal is to identify what value your business provides to the marketplace. As such, it is very important for understanding and fleshing out the overall point of your product or service.
This is what it looks like: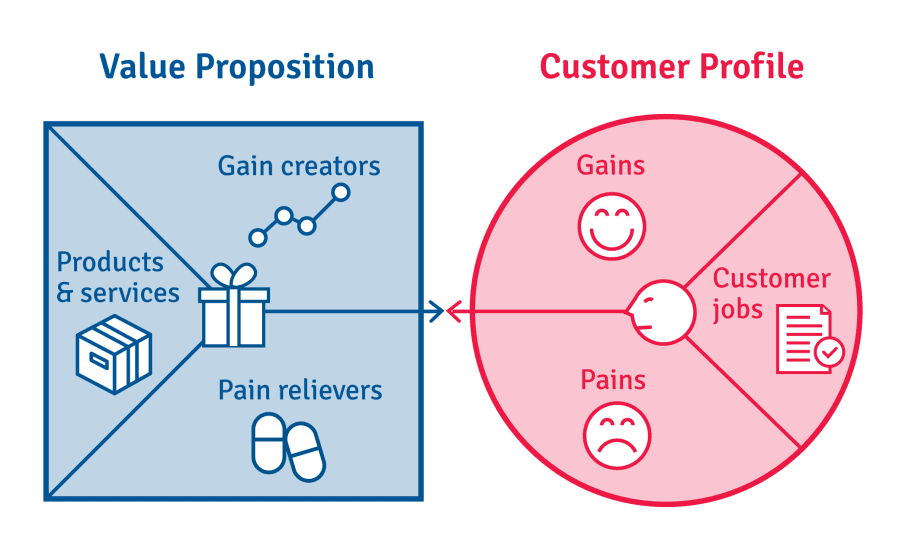 We'll now explore what each of these fields means.
Customer profile
This part of the canvas focuses on your customer. It's important to understand their wants and needs in order to know what you need to be offering. It consists of the following three areas:
Customer jobs
What is the task they're trying to complete? What problem are they trying to solve? These questions will help you hone in on what purpose your business should serve in the customer's life
Customer expectations (gains)
Your customer will definitely have some expectations about what your product or service will do for them. You should try to answer what those are in this section of the value proposition canvas.
Pain points (pains)
What pains or risks does your customer have to deal with while they try to complete their customer job? What negative emotions do they experience? Exploring these questions will help you provide the most helpful products and services on the market.
Value map
This section focuses on your business and what it has to offer to the customer.
Gain creators
How does your product make the customer happy? Consider their goals and what they stand to gain from getting your product, be it financially, socially, or psychologically. It will help you iron out your value proposition.
Pain relievers
How does your business address the pain points you've established your customer has?
Products & Services
Although you're not trying to list everything your business offers here, you should include the ones that will create the most gain and pain relief for your customer(s).
Achieving the fit
Your value proposition isn't complete yet. You now need to fit your value map to your customer profile. This is done by ranking your points from nice to have to essential in terms of value to the customer.
A "fit" is achieved when the products and services that your value map offers address the most significant pains and gains in the customer profile.
Examples
Let's now take a look at two examples to see this in action. We'll first observe a well-formulated value proposition, and then we'll give you an example of the opposite.
Samsung
Headline: Get Ready to Unfold Your World
Subheadline/paragraph: This is everything you'd want in a premium, durable, 5G smartphone. Then we made it unfold—revealing a massive screen so you can watch, work, and play like never before.
Visual element:
Customer profile:
Customer jobs: Their customers are tech-savvy and follow the latest trends. They want efficiency.
Gains: Their customers want to both work productively and have fun on a single device in the palm of their hand.
Pains: Smartphones normally have size limitations that can make entertainment and work difficult or inconvenient.
Value map:
Gain creators: A unique design superior to an average smartphone. The folding technology offers customers a superior experience when it comes to both work and play.
Pain relievers: A phone that can display up to three apps simultaneously in a tablet-like viewing experience.
Products and services: One of Samsung's most popular phones is the Galaxy Z Fold3 5G folding 6.2-inch smartphone with dynamic AMOLED 2X screens, ultra-thin glass with S Penfold edition, and super-strong lightweight armour aluminium frame.
Blockbuster
Remember Glyn who told us about value propositions at the beginning of this article? Well, he's back to tell us about how a bad or irrelevant value proposition can cause problems.
It is important that the proposition remains relevant to the market and the times we live in – there are many examples of big brands losing sight of relevance. Blockbuster was focused on being the best video rental company but they failed to make sure it was relevant when technology changed.
Using your value proposition
Now that you've created your value proposition, all that's left is to use it. Your value proposition should always remain at the core of your marketing efforts and company culture. It is the glue that holds your business together. As Glyn tells us:
Marketing internally and externally to remind staff and customers of the value proposition should be at the core of every communication. It's not just about a logo it's about the belief in the proposition.
Armed with this new knowledge, you must be itching to try out your new and improved value proposition. No problem! Check out our ultimate guide for growing your business with virtual assistance to find out more about stress-free growth!
Alternatively, for all your other VA needs, book a free call with us and let's see if our value map meets your customer profile.